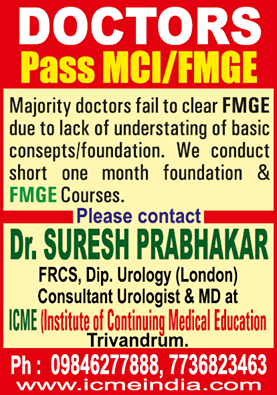 About ICME
ICME is a premier institution providing intensive residential training in AMC, PLAB, PRES (Ireland), USMLE, NCLEX-RN and IELTS. Set in an ambient learning environment with a well-stocked library and 24 hour internet connectivity, ICME delivers just the right atmosphere for learning.
Doctors and nurse aspiring to work abroad require to pass USMLE, PLAB, AMC, NCLEX-RN and IELTS. A majority of doctors and nurse find it difficult in accessing resources and preparing for exams. A failure in these exams have an immense financial loss as a good amount of money is shelled out in examination fees, travel to and stay abroad. This certainly isn't a cheery scenario at all.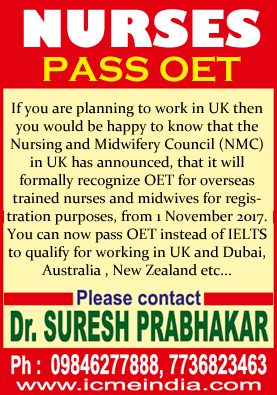 Opportunities Abroad for Doctors
PG in Australia, New Zealand, Ireland, & Ireland without PG or FMGE with high Salary.
Please take a look at current prevailing salary structure abroad.
United Kingdom
Trainee doctors currently have a starting salary of £22,636 (₹19,00,694) – at Foundation Year 1 (F1) – Rising with experience to reach£30,000 (₹25,18,914) within four years.
Doctors in specialist training (ST) receive a salary of between £30,002 (₹25,18,924) and £47,175 (₹39,59,856), while those who make the grade can earn up to £69,325 (₹58,19,122)
New Zealand
The average doctor salary in New Zealand varies with the seniority, for example a resident can expect to earn up to $100,000 (₹46,84,276)a year (in a public hospital, approximate salary package).
A registrar, though, could earn at least $145,000 (₹67,92,201) a year.
Ireland
Basic junior doctor salaries in Ireland range from €30,000 (₹21,25,170)for an intern just out of medical school to €76,000 (₹53,83,764) – €79,000(₹55,96,281) for a specialist or senior registrar at the top of the scale.
This does not include some generous allowances juniors are also entitled to.
Doctors
Why Struggle with
Pre-PG FMGE EXAM?
Consider options for Higher Training
Abroad by clearing the PLAB/AMC
2 to 3 months of guided preparation
can gaurantee you success.
Dr. Suresh Prabhakar
( BSc, MBBS, FRCS, Dip. Urology (London),)
TC 26 / 930 Chembaka Nagar Panavilla Junction
Thiruvananthapuram – 695001,Kerala, India
Reg. No: 1320/06
Mobile: +91-9846277888
Email: icme@icmeindia.com
WHY STRUGGLE FOR PRE-PG & FMGE?
Consider PG in New Zealand & Australia!
PG in INDIA
Pre PG Test for MS & MCh, MD/DM
Recognized by MCI
Stipend Rs 35,000 to 45,000 per Month
Preparation for Pre PG 1 – 2 years
PG In New Zealand
No Pre PG Exam, No FMGE Exam
Recognized by MCI & All other Countries
Stipend Rs 35,000 to 45,000 Per Day 
Preparation for Pre PG 3-4 Months
Dr. Suresh Prabhakar is the chief faculty, is assisted by visiting faculties from India and abroad.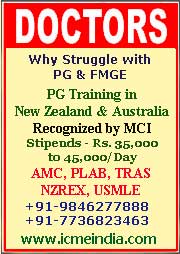 Head Office
ICME, TC 26 / 930 Chembaka Nagar Panavilla Junction, Thiruvananthapuram - 695001, Kerala, India
Reg. No: 1320/06
Mobile: +91-9846277888
Email: icme@icmeindia.com
Branch Office
New Delhi
23/3, Githa Printer's Building
Gautam Nagar (New AIIMS)
Delhi -110049
Mobile: +91-7736823463
Email: icme@icmeindia.com